Mike & Ed's Merchandise
Eating at Mike & Ed's is a pleasure in and of itself. But now, you can take a piece of Mike and Ed's home with you. From delicious sauces, the same ones we serve in our restaurant, to our fine apparel, all items are available at each restaurant location. Just ask someone to help you with our barbecue sauces or t-shirts and we'll make sure you get what you need.
Sauces
Our sauces come in four delicious flavors:
Mild
Hickory
Chicken Sauce
& Yellow Sauce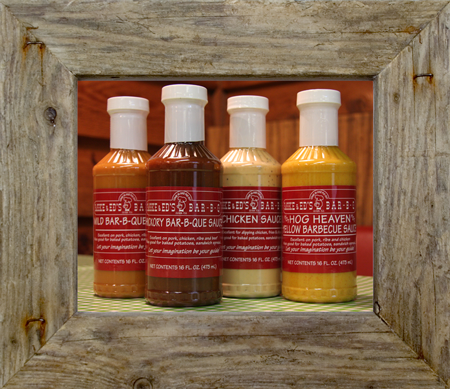 T-Shirts
These T-shirts will display your good taste in fine clothing and good food.
We have short-sleeve shirts as well as long-sleeve shirts and most popular sizes (S, M, L, XL, XXL)
Visit your nearest Mike & Ed's Barbecue and make sure to ask about our fabulous t-shirts.