Welcome To Mike & Ed's BBQ
WE ARE BACK UP AND RUNNING. COME SEE US.
In 1985, Mike Gullat and Ed Cook opened the very first Mike & Ed's Barbecue in Phenix City, Alabama and they have been serving some of the most delicious barbecue and home cooking favorites in the Southeast ever since.
Mike and Ed's has locations* in: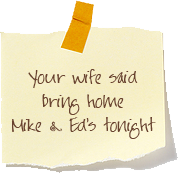 Columbus, GA
Phenix City, AL
Smiths, AL
Auburn / Opelika, AL
We offer delicious food in all five of our locations. We also cater for Columbus, Georgia, Phenix City, Alabama Auburn, Alabama and their surrounding areas.
Mike & Ed's has grown to be one of the best and most-loved barbecue restaurants in the south. Come on in and enjoy some good southern hospitality and the best barbecue around.
* Each franchise is independently owned and operated